In 2011, our household expenses were over $15,000 per month! That was over $180,000 in living expenses per year!!

At the time, we owned two properties in San Francisco, with a total value of about $3 million. While we were making some of that back with rental income, it was still a very large burden to bear (not to mention the risks & responsibilities of being landlords).

So what did we do? Well over the course of about 3 years, we sold both properties and completely downsized our lifestyle.

We went from spending over $15k per month to spending under $3000 per month! And our lives didn't suffer a bit. In fact, today we're much happier and less stressed than we've ever been!

And by drastically reducing our monthly expenses, we were able to quit our jobs and retire early in our 40s. Being able to live very comfortably on less than $3k per month made retiring early much more attainable!

Here are the actual rounded numbers of our household expenses from 2011 to today…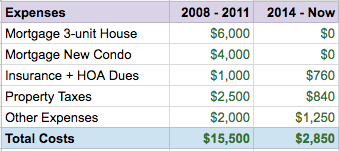 While most of that saving came from reducing our housing expenses, we also reduced our everyday living expenses.
In this course, we'll show you everything we do to reduce our household expenses. You'll learn how to literally save thousands of dollars on Transportation, Food, Health care, Utilities, Travel, and so much more.
Here are just some of the things you'll learn by the end of the course:
6 Tips for Negotiating Cheaper Rent
How to Buy Your 1st Home & Pay it Off Faster
How to Save Money When You Eat Out
Which DIY Projects To Do (& Which NOT to do)
How We Got 50% of All Our Possessions for FREE
Techniques Businesses Use to Keep Costs Low
and much more!
In addition, the course includes:
Assignment -- To help you identify specific ways to cut costs
Bonus Modules -- Podcast & Guide about early retirement
Lifetime Access -- Including any additions & updates over time
30-Day Money Back Guarantee -- If you're not satisfied, we'll refund your money!
Are you ready? Let's do this....