Do you know what the #1 Passive Income earnings machine is? No, it's not a blog, it's not a podcast, and it's not selling items on Amazon.

It's investing in the stock market!

We started investing in 1999 and were able to retire in our early 40s in 2015. It took us only about 15 years to retire in San Francisco, one of the most expensive places to live in the world.

The key is understanding HOW to invest in the markets. In this course, we'll show you all the top techniques we used to significantly grow our wealth over the years.

This graph illustrates the power of smart investing over time. This is our net worth from January 2014 to March 2018. I left the actual dollar amount off, just to show you the trajectory...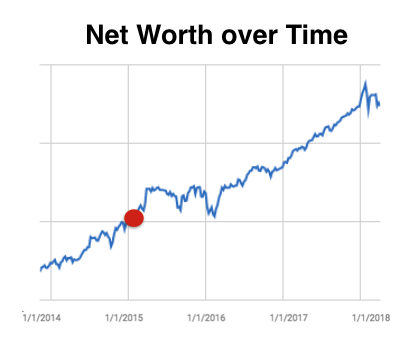 The red dot shows when we left our full-time jobs and retired early. That's when we stopped earning income from a job! And what happened?
You might think it would level off at that point. No, it's continued to climb over the past three years, with a few plateaus and dips.
It's not rocket science - anyone can do it! BUT, if you don't know what you're doing, you can actually lose a lot of money in the market.
Here are just some of the things you'll learn by the end of the course:
How We Went from $0 to Early Retirement
The One Financial Technique You Have to Master
The Top 4 Investment Hacks & How to Apply Them
What to Do When the Markets Go Down
How to Put Your Investments on Autopilot
and much more!
In addition, the course includes:
Assignment -- To help you get started investing
Bonus Modules -- Podcast & Guide about early retirement
Lifetime Access -- Including any additions & updates over time
30-Day Money Back Guarantee -- If you're not satisfied, we'll refund your money!
Are you ready? Let's do this....